With a Ph.D. in molecular cell biology from the University of Iowa, USA, Associate Professor and former Director of the center of studies at the Hashemite University Rana Dajani is more than doing her part in making the world a better place.
Dr. Dajani currently serves as a consultant to the higher council for science and technology in Jordan, an advisor at UN Women Jordan Advisory Council, a higher Education Reform Expert at TEMPUS – Jordan and an Education expert consultant to the Islamic Development Bank in Saudi Arabia. She was chosen as one of the 20 most influential women scientists in the Islamic world 2014 by the UK based MuslimScience magazine and as one of CEO Middle East magazine's 100 Most Powerful Arab Women 2014 –she was number 13 on the list. She was also selected as one of the 100 most powerful Arabs in the World in the category "geniuses" by Arabian Business magazine 2014 and as one of the GOOD 100 for 2014 by the GOOD 100 magazine.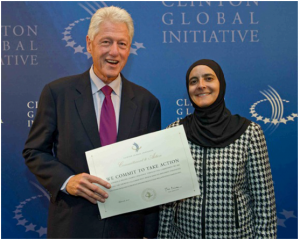 Dr. Dajani's other achievements include helping establish a molecular biology lab for students using grants from local and international organizations and initiating a committee to study the ethics of stem cell research in Jordan. She has also coordinated with different hospitals, universities and research centers on conferences about the stem cell applications in the medical field.
Dr Dajani's passion is to get everyone involved and excited about what they do. She has coached thousands of students to go above and beyond and reach their maximum potential.
With this in mind, Dr. Dajani founded and is currently the Director at We Love Reading, a community-based model and philosophy. "We love reading (WLR)" is project that Dr. Dajani is very passionate about, and when asked what the first spark was, Dr. Dajani said, "I had done my PHD in the United States and went back to Jordan. My children, my husband and I realized that the people in my neighborhood in Amman, Jordan, both children and adults, don't read. So we were curious to find out the reason. And when we say they don't read, we mean reading outside of work or school, because everyone here can read and is highly educated. We are not talking about religious reading too; everybody reads Quran, or their holy books. We mean reading for pleasure. It's this kind of reading that we are lacking in Jordan and in the Arab world."
"The statistics said that in the Arab world people read six minutes per year, or half a page in a year on average. So we asked ourselves, why don't we read? We did some research, and made observations, and we found out that the reason that we don't read is the lack of being read to from a very early age, even as young as being in their mother's womb.   Research has proven that when you are read to as a child, it builds the love of reading, because unconsciously it's the bonding between the parent and the child. So they will always read even when they are adults, because it gives them a sense of comfort, happiness, serenity, safety, and that's how you plant the love of reading."
"We found out that it's not a habit to read to children here, it's not a part of the culture. So, of course I can't train every parent to read aloud to his or her children. So, I felt the sense of responsibility, when you have knowledge it comes with responsibility. Prophet Mohammad, peace be upon him, said 'everyone is a guardian'; Gandhi said, 'be the change you want to see in the world'; so my children and I decided to gather the children in our neighborhood to read aloud to them, this is the least we can do."
"So we wanted a public space. My house could work, but it's something that would stay forever, it's not practical. Looking around, we realized that every neighborhood had a mosque, it's open everyday, it's safe, it has a carpet, it has washrooms everybody can come to it. I Contacted the Imam, and I told him that I want to read aloud to the children on Saturdays, he welcomed us. It was announced on the Friday prayer, and that was in 2006. The first Saturday twenty-five kids showed up, of course they came because their parents forced them to come. When they came, I wore a funny hat, and used puppets, and I read in an animated way. The children loved it, and next week they were awake by seven O'clock in the morning, begging their parents to come to the mosque, so it successful. That's how we started"
Dr. Dajani's sense of responsibility is a major factor in the success of (WLR) project. "When I first started out, many people said 'who do you think you are?', 'you can't change children by reading to them once a week' and that it was impossible. We proved these people wrong. Every change takes time. There is another saying of Prophet Mohammad, peace be upon him, 'a little but consistent, is better than a lot and inconsistent'. There is another saying of Prophet Mohammad, 'do not be little any good'. And now, We Love Reading has spread throughout the world, from a small beginning, one neighborhood in a mosque. The feeling or responsibility and because I know it can be done, and it will work. That's what pushed me to do it, because I thought if I didn't do it, maybe nobody else is going to do it, I felt that I had to do it. It's also the testimonial that nothing is impossible, that if you believe in something it will happen, and those who don't believe in it, are just looking for excuses" Dr. Dajani passionately stated.
Dr. Dajani emphasizes that it is not just about planting a love for reading. "We want them to read for their own sake, not because their parents forced them to. Part of the model is also about building the child's ownership that they want to do something to make a difference in their own lives. But it is also about building communities, the parents started to get to know each other", she said.
Dr. Dajani continued, "The first set of books I bought was in the native language, and every country that this project spread to, started with their native language. We tried to choose colorful books to attract the children. These books are neutral in content, because we want to plant the love of reading regardless of who the child is. Of course I had to buy the first set of books, but the Imam was very happy that the kids were out of the streets, and the parents also reported that they are doing better in school, that they were more confident. Now they are listening and paying attention to their teachers. So the mosque with the parents started to donate money to buy books, to enrich the library. Of course we call it a library, but it's a place where books are read aloud to he children, it's not your typical library. It's not about the building. It's about the love of reading".
Dr.Dajani's concern about the sustainability of the project made her think of how to build the volunteers' ownership of the project. Dr.Dajani explains "This model is sustainable, because it comes from the neighborhood. It's not someone coming from outside with a project and plan. It's someone from the neighborhood, trusted, like a relative or a neighbor. When they read in their neighborhood, they get all the credit. Nobody knows about me, they only know the people who read aloud, so they get all the credit and they stay interested and involved".
A small but steady step in the right direction is all Dr.Dajani ever wanted to do. "Now the children line up to take the books home, after we've finished reading, so we don't really need a bookshelf to keep the books, or lock them up. They bring them back the following week. So in order to plant the love of reading, they have to take the books home. So these start to read to their other siblings, and recommend books to their friends. This has proven that children are children wherever they are as long they get the right of experience, and the right environment. We focus on the kids from ages 4-10, because above ten, it was difficult to plant the love of reading. It was different kinds of books, and putting girls and boys together, in the mosque was difficult. And for kids under 4, we would need to advocate the parents. And adults are sometimes difficult to change", she said.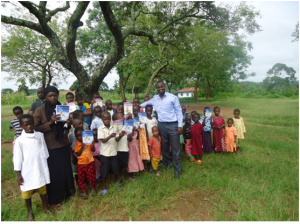 The project has moved along, far from its humble start at the mosque in Dr. Dajani's neighborhood, when 25 kids between the ages of 4 to 10 had been forced by their parents to attend for the first time. "So in three years people start to come to me because they were not used to read aloud for nonrelatives. In eastern cultures, people are very giving, but they usually, keep it to family. So, in 2008, I was awarded by 'Synergos'. I applied for 'Arab World Social innovator' and I won and with that award I was able to start to train people how to read aloud, and how to start a library in your neighborhood. And since that I was able, and by that I mean my husband and children, because they were the once that kept me going, they were my inspiration", Dr. Dajani stated.
"We established an NGO called 'change'. In 2010, the model has grown, in the sense that the people we train- most of them are women- we have trained individuals from age 16 to age 85, and those people were encouraged to pay it forward and train others, which they tell the people they trained to train others. The website that we created helps to spread this model we have 300 libraries in Jordan, and 15 countries around the world. In Turkey, there are 40 libraries in Istanbul only. There are libraries in Riyadh, Malaysia, Thailand, Azerbaijan, Germany, and Gaza."
"A reporter read about 'We Love Reading' and he went back to his hometown in Uganda and he started to read to the children and this spread like fire from village to village. I was invited to Mexico as a speaker; the indigenous people didn't want to send their children to school, because they want to keep their identity. So when they heard about We Love Reading, they thought that this was a great model were we can write down our folklore stories and read it out to the children to preserve their identity and heritage, and at the same time, we can comfortably send them to school."
"Even from America I got two calls, one from New York City, and one from Urbana Champaign asking me, to implement this model. I asked why would you want to do that, because in America, people read, but they said, the average is higher that Arab countries, but in some communities, they don't read at all, especially immigrant communities, or poor pockets. So we had the first read aloud session in Haven, Connecticut. And this has proven that it's not always western-eastern migration of ideas, sometimes it's the opposite. Especially in the Arab World, we need to regain our confidence in this global world. This model has become a platform where we can install programs to raise awareness about particular issues. We developed books 12 about anti-littering energy conversation and we read them through out our libraries in Jordan."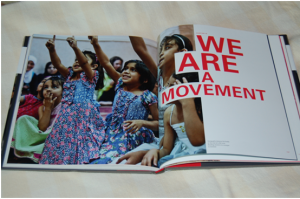 In the book "Innovation in Education" published by the Qatar foundation, where they chose projects around the world as case studies, We Love Reading was described as a movement. Dr. Dajani said this was "because it spread out from a woman to a woman from an individual to individual. The program was about children and increasing their reading level but it also become about women empowerment because most of the people we train are women. They are now assuming leadership roles in their neighborhoods, making a difference in their neighborhood. We love reading became a framework to help them to discover how they can help their communities starting from their families and then outwards so in that sense the change became significant."
Dr. Dajani added "We are actually now working with The University of Chicago on a program to study how reading can change the level of empathy and altruism. And see how the books affect children".
According to Dr. Dajani, one of the most important things that WLR has achieved is that the people involved, mostly women, have gained the respect of their community, who now accept them as leaders; Women are welcomed by Mosque clerics to manage and administrate the read aloud sessions. She is particularly proud that women from refugee camps have said that men in their neighborhood often encourage them to continue their WLR pursuits.