Written By Tom Verde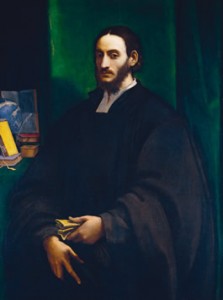 In the "Northern Italian" room of Washington's National Gallery of Art hangs a somber, dark-toned likeness of a young scholar entitled "Portrait of a Humanist." Painted in Rome about 1520, the bearded, black-robed figure stands partially illuminated in a three-quarters pose. His dark eyes are fixed, his posture self-assured. His long, elegant hands seem well-suited to the tools of his trade at his side: quill and ink, leather-bound volumes and— a fairly recent invention—a globe.
Some have suggested that the "Humanist" may have been a poet friend of the artist, the Venetian Sebastiano del Piombo. But others suspect that the shadowy figure with the vaguely Moorish features was in fact Al Hassan ibn Muhammad al-Wazzan al-Fassi, better known to western scholars as Leo Africanus.
Leo is considered the last of the great Muslim intellectuals to pass along Islamic learning to the pre-Renaissance West.
The fact that, even in portraiture, he remains elusive is characteristic of this man from Fez, who served both sultans and popes, may have inspired Shakespeare's Othello and remained the West's foremost authority on the geography, history and culture of sub-Saharan Africa for 500 years after his own time.
A traveler-historian in the tradition of Ibn Battuta, Ibn Khaldun and Ibn Jubayr, Leo was a man of many talents, occupations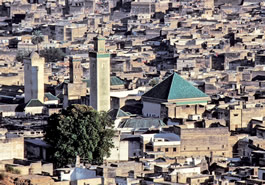 and adventures. He was, at various times, a diplomat, jurist, hospital administrator, geographer, teacher, political prisoner and international celebrity. In the course of his travels from Timbuktu to Istanbul, he survived Atlas mountain blizzards and Nile crocodile attacks only to be kidnapped by pirates and presented to Pope Leo x in Rome, where he ostensibly converted to Christianity. Though it's believed he eventually returned both to Islam and to North Africa, he gained fame while in Italy for his knowledge of the Maghrib, or North Africa, and the African interior, which he set down in a book whose English-language version was called The History and Description of Africa and of the Notable Things Therein Contained.
Even though modern Moroccans are proud to claim him as one of their own, some admit he is not so easily pinned down.
Leo learned the ways of courts and traders in the company of his diplomat uncle, and probably spent many hours "awaiting an audience," like the subject of this 19th-century orientalist painting.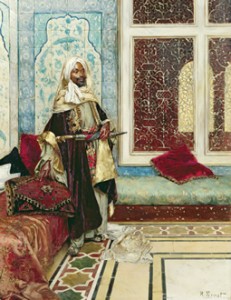 "His cultural and national identities can be hard to determine, because they were altogether subtle," said historian Lotfi Bouchentouf of Hassan II University at Ain Chok, near Casablanca. "He was a Muslim who lived as a Christian and wrote for a Christian audience about the world of Islam. He was a man of many levels."
No one, however, disputes the value of his writing. Titled Cosmographia & Geographia de Affrica in manuscript form, Leo's book was published in Venice in 1550 as Della descrittione dell'Africa (See "Found in Translation"); it offered European scholars, explorers and mapmakers—not to mention gold-thirsty monarchs—detailed descriptions of the Barbary coast and the fabled, gold-trading kingdoms of Central Africa.
"It was a different vision of Africa and Morocco than had ever been set down before. It was completely new," said historian Ahmed Boucharb, former dean of the school of arts and sciences at Muhammad v University's Casablanca campus. "He was writing about things that hadn't attracted the attention of his contemporaries—how people lived, how they ate, how they dressed, their economy, their habits, superstitions, customs and cultural lives."
Such new information was highly prized at a time when western knowledge of the African continent amounted to little more than scattered medieval myths of monsters and classical accounts of headless men whose faces were on their torsos. In this respect, Leo is considered the last of the great Muslim intellectuals to pass along Islamic learning to the West—the final steward of a 500-year cultural exchange.
The gilding on that age had begun to fade at the time of Leo's birth in Granada, around 1494. Just two years earlier, the last of its Nasrid sultans surrendered Granada to the armies of the Reconquista before seeking refuge across the Mediterranean in Fez. He was followed by droves of his fellow Spanish Muslims, and Leo's family was among them.
Wealthy and well-connected, the al-Wazzans probably settled in Fez's Andalusian quarter, just across the Bou Khareb River from the Karaouine Mosque and its madrasa, the most important religious and intellectual center of a culture deeply devoted to learning.
"Those Arabians which inhabite Barbarie, or upon the coast of the Mediterran sea, are greatly addicted unto the studie of good artes and sciences," observed Leo in Book I of his History.
As a Karaouine student himself, Leo studied "Grammar, Poetrie, Rhetorick … Cabala, Astronomie and other ingenuous sciences," according to John Pory, translator of the only English-language edition of the History, published in 1600. Leo was a good student, and earned the title of qadi, or judge, by the age of 14. While a student, he also held down a sort of work-study job, moonlighting as a notary and bookkeeper at a medical center for indigent pilgrims and the mentally ill.
His narrative seems styled to inform rather than impress or flatter
Like his law career, Leo's travels and adventures began at an early age. As a boy he accompanied his father on post- Ramadan pilgrimages to visit various shrines in the Middle Atlas mountains. At 10 or 12 he also joined the elder al-Wazzan on a trip to the coastal trading city of Azaphi (Safi), probably on a commercial mission. (The surname al-Wazzan means a person assigned to weigh and certify trade goods, which indicates that his family was probably involved in commerce.) On one of his first solo trips, traveling among the Berber tribes of the High Atlas mountains as an itinerant qadi, Leo once found himself captive for nine days in a village of "base and witless people" who wouldn't let him leave before he heard a lengthy backlog of their legal disputes. The rich and pampered city boy from Fez complained about having to sleep on the ground and "eate of such grosse meats as … barlie meale mingled with water, and of goats-flesh, which was extremely tough and hard by reason of the staleness and long continuance." On day nine, he was rewarded for his trouble not with gold, as he had expected, but with a chicken, some nuts and onions, "a handfull of garlicke" and—probably the last thing he needed—a goat. He fared much better in the mountain town of Medua (modern Algeria's Medea), where he earned nearly two hundred ducats in as many months and recalled being so "sumptuously entertained … that had not dutie enforced me to depart, I had remained there all the residue of my life."
The wider world became Leo's oyster at about 16, when he accompanied his uncle on a diplomatic mission in the service of the Wattasid sultan of Fez, traveling to Timbuktu and Gao—the great imperial trading cities of the Songhai Empire, in what is now eastern Mali. Along the way, Leo so charmed a local mountain chieftain with verses he composed in the chieftain's honor that he was rewarded with "a stately breakfast, … fifty ducates and a good horse."
Impressed with these and other reports of young Leo's diplomatic skills, Sultan Muhammad deemed him one of his most trusted ambassadors and eventually dispatched him back to Timbuktu, east as far as Istanbul and perhaps beyond.
Such missions were critical for ensuring Fez's political autonomy and economic stability at a time when the Portuguese and Spanish were rapidly colonizing Africa's coastline, rival powers were growing in the south and the Ottoman Empire threatened to engulf all of North Africa. Keeping track of shifting powers and managing alliances was the job of the sultan's ambassador. While the sultans of Fez were confident enough to keep the Portuguese and the Ottomans at bay, they were also clever enough to know that they were useful to both powers only as long as they retained control of the lucrative trans-Saharan caravan trade routes.
This ancient commercial network of rocky passes, desert treks and jungle trails crisscrossed more than 2400 kilometers (1500 mi) of Central and West Africa, from the foothills of the Atlas mountains through the western Sudan to the Gulf of Guinea. Along its well-worn camel paths flowed manufactured trade goods from the north—textiles from Europe, sugar from Sus in southern Morocco, leather-bound books from Fez, brass and copper vessels from the workshops of Marrakech—together with dates and horses, in exchange for the famed treasures of the Bilad al-Sudan ("Land of the Blacks"): gold, slaves, pepper and other spices, and civet cats, prized for their musk. These streams of commerce converged at major trading centers along the way, some of which now exist only in history books: Taghaza, Taodeni, Arawan, Walata, Gao and—that most fabled desert metropolis—Timbuktu, today still synonymous in the western imagination with the farthest of far-off exotica.
"The rich king of Tombuto hath many plates and sceptres of gold, some whereof weigh 1300 poundes and he keepes a magnificent and well furnished court," wrote Leo, who visited the city when the Songhai Empire was at its height, during the reign of Askia Muhammad I (1493–1538). As an ambassador, Leo would have been ceremoniously ushered into the king's presence and pushed peremptorily to his knees: "Whosoever will speake unto this king must first fall downe before his feete, & then taking up earth must sprinkle it upon his owne head & shoulders."
From Timbuktu to Hausaland (now eastern Mali and southern Niger), across the neighboring kingdoms of Borno (now in northeastern Nigeria) and Kanem (now in Chad and Libya), on up through Egypt, along the Nile to Aswan, Chana (modern Qena, where "cruell and noisome" crocodiles "lurking about the bankes of the river, do craftily lay waite for men and beastes … and there devour them") and Cairo, and then on his trip back home via Tunisia and the Barbary Coast, Leo kept a meticulous account of everything he saw, smelled, tasted and heard. With characteristic thoroughness and attention to detail, he offered the good with the bad, the magnificent alongside the mundane, in an even-handed narrative that was clearly meant to inform rather than impress or flatter.
Thus, we learn that the pomegranates of Mecnase (Meknes) are "most pleasant of taste" but its "lemons are waterish and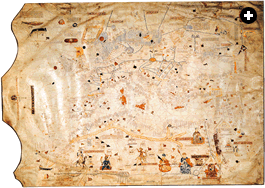 unpleasant"; that Cairenes are "people of a merrie, jocund and cheerful disposition such as will promise much, but performe little"; that the king of Borno doesn't pay his bills on time, yet has so much cash on hand that he can furnish his dogs with collars of "pure golde."
Leo did betray strong feelings when it came to some things, such as the table manners of the Berbers ("Cuscusa … is set before them all in one platter … out of which every one raketh with his greasie fists") or the destructiveness of the Portuguese, whose attack on Anfa (Casablanca) brought him to "teares when [he] beheld the miserable ruin of so many faire buildings and temples [mosques]." He reserved his harshest criticism for those who bred disharmony among fellow Muslims, who "procured followers by bloud and the cloake of religion." Here, Leo was referring to bellicose Saadians—tribesmen from the Souss region—who pillaged Muslim towns instead of defending them from foreign invaders, or fanatics like the shah of Persia who forced others "to receive … his sect … by force of arms." From Egypt, Leo wrote that he "traveled thence over the desert unto the red sea, over which … I crossed unto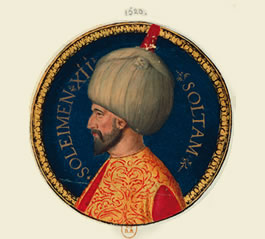 Jambu [Yanbu'], and Ziddem [Jeddah]." He made no mention, however, of continuing on to Makkah to perform the Hajj, though it seems unlikely that he would have let such an opportunity slip by. His silence may be merely editorial discretion: As he pointed out, Jambu and Ziddem "belong unto Asia," and further "discourse … should seem to transgresse the limits of Africa." He did promise, however, future volumes on his travels to Arabia, Asia, Constantinople and Europe, but none of them ever materialized—or, if they did, they are long lost.
Returning in June of 1518 by sea from Constantinople, his ship was attacked by pirates off the coast of either Crete or Djerba, in Tunisia. (Scholarly opinions vary.) His captors were in the employ of the Knights of Saint John, who maintained power in the eastern Mediterranean by harassing sea traffic, robbing Muslim ships and selling captives into slavery. Recognizing that Leo was a man of learning, as evidenced by the various maps, charts and notes he carried with him—essentially the Cosmographia's first draft—the knights determined that the well-spoken Moor might be of more use to Pope Leo x than to the slave traders of Pisa and Genoa.
Leo's arrival in Rome was chronicled alongside other high-profile events on the Vatican calendar that year, such as the baptism of the French Dauphin and the establishment of new churches and religious orders. This suggests that Pope Leo considered Leo the traveler to be no ordinary prisoner—and he had good reason. As an envoy to Constantinople, he had intimate knowledge of the Ottoman Turks and their trouble-some, yet formidable, sultan Süleyman the Magnificent, against whom the pope had recently declared a crusade. In addition, the prisoner's travels throughout Africa could provide invaluable commercial information, especially useful when the pope's reckless spending habits were draining the Vatican coffers. Thus, Leo became an immediate celebrity.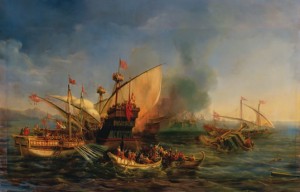 At the same time, he was hardly the first Moor (a term Europeans of the day used freely to refer to African Muslims, Berbers and even Indians and Asians) to be seen in the Holy City, or, for that matter, on stage or in the pages of European literature during the Renaissance. Having a Moor or two around a royal court was, in fact, practically de rigueur, as Europeans grew increasingly enchanted with the exotic otherworldliness of new cultures and continents, like the one Columbus stumbled on while searching for Asia. It is widely believed that William Shakespeare patterned the character of Othello on Leo, whose book, translated by John Pory, was published in London just four years before the play's first performance in 1604. Like Leo, the Moor of Venice is an educated Muslim adventurer who travels "here and everywhere," before being captured by "the insolent foe / And sold to slavery" prior to his "redemption" and conversion to Christianity.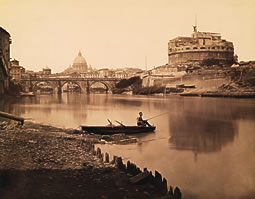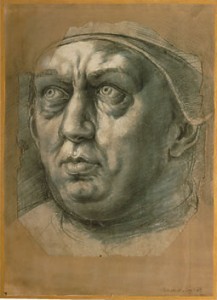 Leo's own conversion remains the subject of much speculation. He spent his first months in Rome imprisoned in the Castel Sant'Angelo, a barrel-shaped fortification in the shadow of St. Peter's Basilica. Though the castle featured an infamous dungeon, Leo was probably afforded one of Sant'Angelo's relatively comfortable apartments. He was also free to request Arabic books from the Vatican library, and did. Still, so long as he remained a Muslim he remained a prisoner, and that must have been hard on the restless traveler from Fez, who delighted in the luxuries and excitement of court life. So, when he found himself faced with a choice of conversion and freedom versus indefinite imprisonment, he opted for the former.
"This was very common at the time," said Boucharb. "Muslims and Jews converted to Christianity; Christians converted to Islam. The Turkish Empire, for example, was filled with mercenaries who had originally been Christians, while the Moroccan army had thousands who had converted to Islam."
Leo was baptized on January 6, 1520 by the pope himself, who christened his new convert "Johannes Leo de Medicis," or "Giovanni Leone" in Italian, a gesture of high favor, for Giovanni de' Medici was the pope's own name. For his part, Leo referred to himself by the Arabic version of his new name, Yuhanna al-Asad—John the Lion. In fact, he never used, and probably never even heard, the name Leo Africanus, a sobriquet assigned to him 30 years later by his Venetian publisher, Giovanni Battista Ramusio.
Scholars debate the sincerity of Leo's conversion, but the argument is literally academic, as Leo left no definitive statement on the matter. He did, however, leave a hint by relating the story of "a most wily bird" who avoided paying taxes to the king of birds by living underwater like a fish. When the fish king began demanding taxes, the bird promptly left the water and returned to the sky.
"I will do like the bird," Leo wrote. "[W]hen I hear the Africans evil spoken of, I wil affirme my selfe to be one of Granada; and when I perceive the nation of Granada to be discommended, then I will professe my selfe to be an African."
While this may seem opportunistic, it is possible to interpret such a strategy as taqiyya, the custom of outwardly renouncing one's religion under coercion while inwardly maintaining devotion to one's faith. Rooted in the Qur'an (16:106) and supported by a religious decree in Leo's own time, taqiyya was a means of survival for many a Morisco (a forcibly converted Muslim) during the Reconquista.
Whatever Leo believed in his heart, his survival strategy kept him alive and well long enough to finish the Cosmographia in March of 1526. He wrote much of the book while teaching Arabic at the university in Bologna, where he moved after Pope Leo's death in 1524 in order to avoid the new, less Morisco-friendly pope, Hadrian IV. While in Italy, he also produced several other lesser-known works: a transcription of an Arabic translation of the Epistles of St. Paul, a treatise on the Muslim faith and Malakite law (now lost), a summary of Islamic history (also lost), an Arabic–Hebrew–Latin medical vocabulary (of which only the Arabic portion survives), and a biographical dictionary of 25 notable Islamic and Jewish scholars.
Since 1550, 33 editions of Leo's History have been published in eight languages
By 1527, Leo was back in Rome, under the nominal protection of yet another pope, Clement VII, who had much more on his mind than the fate of a resident Moorish intellectual. These were uneasy times for the papacy: The Ottomans continued to encroach from the east; the Protestant Reformation was wreaking havoc in Germany; England's Henry VIII cut ties with Rome over Clement's refusal to grant him a divorce, and France and the Holy Roman Empire were at war.
Perhaps it was political expediency, or perhaps a sign of where his true loyalties lay, but when the war spilled over into Italy and Emperor Charles V sacked the Holy City in May of 1527, Leo probably took the opportunity to slip away to North Africa. While some believe he lived out his days in Rome and others say he was killed during Charles's invasion, there is more convincing evidence that he spent his final years in Tunis. The writings of a contemporary German orientalist, Johann Albrecht von Widmanstetter (1506–1557), record that in 1531 Widmanstetter intended to travel to Tunis to meet the great Arab scholar "Leo Eliberitanus," as he called Leo. ("Eliberitanus" derives from "Elvira," the pre-Islamic name for Granada.) Though some argue that Tunis seems an unlikely final destination for Leo, as he had little connection to the city, they agree that he did end his days as a Muslim in North Africa and died some time after 1550. (This is a best-guess date based on the lack of any reference to Leo's death in Ramusio's original 1550 preface.) Leo himself, in the final chapters of the Cosmographia, expressed his desire to return one day "by Gods assistance…into mine owne countrie."
If Leo did in fact return to his "owne countrie" by 1550, he missed basking in the vast popularity and success of his magnum opus.
"Very quickly, the book was all over Europe," said Boucharb. "There were many people who were interested in knowing whatever they could learn about Africa, and the source for that was Leo."
Even as late as 1834, the Swedish consul in Tangier quoted the History in his reports on Morocco, as if Leo's descriptions were still accurate.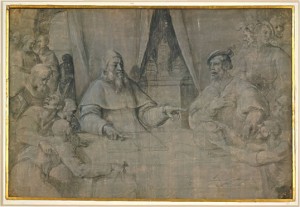 Yet in many ways they were—and still are.
"The Muslim world was approaching a crisis, a transition, that later on would lead to its colonization, and Leo Africanus recognized this," said Bouchentouf. "Some of the dimensions of this crisis were the Christian conquest of Spain, the appearance of Sufism and the superstition associated with mysticism, and civil war and the decline of civilization in the kingdom of Marrakech."
In addition to Leo's foresight, the hindsight gained by historians who study his writing is invaluable.
"Read the chapter on Fez," suggested Boucharb. "It is extraordinary in its detail, making it possible to compare 16th-century Morocco with what we have now."
But Leo's modern relevance extends beyond the interest of a handful of specialized scholars. As Morocco and the European Union edge closer to forming what French president Nicolas Sarkozy called "a Mediterranean union linking Europe and Africa" economically and politically, a figure like Leo Africanus is practically a poster-boy for the effort.
"He plays directly into the modern cultural politics of the region," said cartographer and historian Martin Elbl of Ontario, Canada, co-creator of "The Leo Project," which will be an interactive Web site dedicated to Leo and his travels. "He stood poised on both the Muslim and Christian frontiers and was able to negotiate the crossover between them both."
A most wily bird indeed.
FOUND IN TRANSLATION
The History had its origins in the notes and journals Leo compiled during his travels. These were, naturally, written in Arabic. When asked by the pope to set it all down in a book, Leo dictated his narrative to an Arabic-speaking Vatican scribe, Elia Ben Abraham, a monk from Lebanon, who helped write the book in Italian. Leo entitled this handwritten manuscript Cosmographia & Geographia de Affrica. Leo's Arabic notes have not survived, but a contemporaneous copy of the original Italian manuscript exists.
In 1550, Giovanni Batttista Ramusio, a high-ranking Venetian official, published the Cosmographia as part of Delle Navigationi et Viaggi, a five-volume collection of geographical texts and travel narratives. Ramusio retitled Leo's contribution Della descrittione dell'Africa et delle cose notabili che quivi sono, and he bestowed on its author the pseudonym "Leo Africanus." Enormously popular, the book was reprinted numerous times and translated into French (1556), Latin (1556), English (the Pory edition of 1600) and Dutch (1665). In 1667, the soldier Luis del Mármol y Carvajal published a Spanish edition, which he supplemented with tales of his own adventures in North Africa. The first German edition was published in 1805.
All of these translations were made from the Ramusio edition, and not from the original manuscript of the Cosmographia, which was believed to have perished in a fire in 1557. Then, in 1931, Italian scholar Angela Codazzi discovered a handwritten copy of the manuscript in a pile of uncatalogued and unidentified documents in the Biblioteca Nazionale in Rome. The calligraphy matched that of known works of Leo's scribe, Elia Ben Abraham, thus indicating an original copy. Codazzi began the job of editing and publishing her find but was interrupted by World War II.
What quickly became evident to Codazzi—and to subsequent scholars who consulted the Cosmographia—were the significant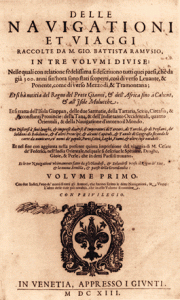 differences between the original Italian manuscript and the Ramusio edition. In some cases, these changes were organizational: dividing the work into books, chapters, sections and paragraphs, shuffling the order of the original manuscript and adding punctuation. (The original had none.) Yet in other instances, Ramusio edited with a heavy hand, deleting large sections of text, adding sentences that Leo never wrote, and altering the tone of the Cosmographia for the apparent political purpose of putting distance between Leo and African Muslim society so as to make him, and his narrative, more acceptable to Europeans.
For example, when Leo discussed the messy eating habits of the Berbers in the Cosmographia, he qualified his observation by stating that, nonetheless, the table manners of "an Italian nobleman" were no better than "any African nobleman." Ramusio, however, changed the text to compare the "poorest Italian nobleman" and the "most powerful African ruler." In the Cosmographia, where Leo described the Arab city of Bona (modern Algeria's Annaba), Ramusio inserted that it was once known as Hippo, "dove fu episcopo santo Agostino" ("where Saint Augustine was bishop"). The goal here, according to Moroccan-born historian Oumelbanine Zhiri of the University of California in San Diego—a leading Leo scholar—"was to show that North Africa, having been Christian, could become Christian again through a reconquest that would prolong the Reconquista."
Then there are problems with Ramusio's lack of understanding of Islam, as Zhiri observed. Where Leo referred to some people as having "no knowledge of the limits" or living with "no rules," he meant Muslims who failed to abide by Islamic law—a qualification Ramusio simply edited out. Even Leo had trouble rendering some Arabic terms into understandable Italian, translating "caliph," for example, as "pontiff."
The 1556 French translation of Ramusio (upon which the even worse Latin and English translations were subsequently based) is more troubling in certain passages dealing with Islam. Not content with Leo's straightforward account of the coming of Islam to North Africa, French publisher Jean Temporal had him describe the spread of "the damnable Mohammedan sect" as a "pestilence"—language Leo would never have used.
Fortunately, modern translations have since addressed many of these biases. Of these, Alexis Épaulard's annotated French edition (1956, reprinted in 1980) is generally considered to be the most faithful to the original, as it is based on a line-by-line comparison between Ramusio and the Cosmographia. In 1999, German scholar Dietrich Rauchenberger published a selection of similarly researched passages from the Cosmographia—the sections dealing with the sub-Saharan Africa and the Sudan—in his exhaustive biography, Johannes Leo der Afrikaner. Another partial translation, in Hausa, was published in 1930 in Nigeria. It was not until 1982 that Leo returned home, as it were, with the publication of an Arabic translation by the late Muhammad Hajji of the Moroccan Association for Writing, Translation and Publication in Rabat.
All told, 33 editions of the History have been published in eight languages since 1550—an average of one new edition every 15 years. "No other travel writer, Muslim or Christian, ancient or modern, has bettered this average," observed Rauchenberger.
LEO IN LITERATURE
Leo's appearance in print extends well beyond the pages of his own work. It is generally accepted that he served as the model for William Shakespeare's character Othello. The Bard and Leo's English publisher, John Pory, moved in the same circles, and they had a mutual friend in the famed geographer Richard Hakluyt. That Shakespeare would have had access to, or at least heard about, the Pory edition seems likely. And the playwright was not shy about borrowing plots and characters from others: Scholars draw parallels between The Tempest, for example, and published reports of a real-life shipwreck off Bermuda.
In the case of Leo-as-Othello, there are numerous similarities in the back-stories of each figure. Othello claims noble parentage("I fetch my life and being / From men of royal siege" [Act I, Scene II]) while Pory asserts that Leo's "Parentage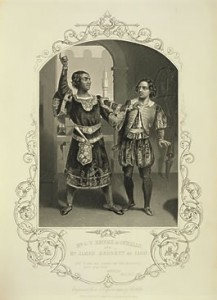 seemeth not to have bin ignoble." In the play, Othello is described as "an extravagant and wheeling stranger / Of here and everywhere" (I,I). Pory writes that Leo "was so diligent a traveller; that there was no kingdome, province, signorie or citie; or scarcelie any towne, village, mountaine, vallie, river, or forrest, &c., which he left unvisited." Othello boasts of "the battles, sieges, fortunes, / That I have pass'd … of most disastrous chances; / Of moving accidents by flood and field; / Of hair-breadth scapes i' the imminent deadly / breach." Pory wonders how Leo "should have escaped so manie thousands of imminent dangers … how many desolate cold mountaines, and huge, drie and barren deserts passed he? How often was he in hazard to have beene captived, or have had his throat cut by the prowling Arabians and wilde Mores? And how hardly manie times escaped he the Lyons greedie mouth, and the devouring jaws of the Crocodile?" Othello recounts "being taken by the insolent foe / And sold to slavery; of my redemption thence; / And portance in my travel's history," while Leo warns his readers of Sicilian pirates: "If any stranger should fall into their hands … they presently carrie him to Sicilie, and there either sell or exchange him for corne." Perhaps most telling, considering Desdemona's fate and Othello's fatal flaw, is Leo's characterization of the Berber marriage temperament: "No nation in the world is so subject unto jealousy; for they will rather leese their lives, then put up any disgrace in the behalfe of their women."
More recently, Leo served as the title character of Amin Maalouf's 1986 historical novel, Leo Africanus. Maalouf sticks closely to the facts, using the thread of Leo's life to weave together an adventure that features everyone from Columbus to the Medicis, Martin Luther and Süleyman the Magnificent, while placing Leo at the center of the major events of the day.
Perhaps Leo's most bizarre literary appearance is in the writings of Irish poet William Butler Yeats. A student of mysticism and the occult, Yeats claimed to have made contact with Leo during a séance in 1912. Yeats came to consider Leo his "daimon," or alter ego, writing to him and receiving responses—Yeats claimed—in Leo's own hand. By 1917, Yeats's contact with Leo tapered off and ceased.
(( This article was published in Saudi Aramco World issued January/February 2008 ))