Japanese manga girl "ISIS-chan" is appearing all over social media, and she has a mission  to stop ISIS (Islamic state group), and to gather as many melons as she can.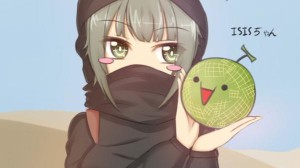 ISIS-chan wears the terrorist group's black clothing. She has green eyes and dark hair. She's 19. And if she's holding a knife, it's only because she loves to slice and eat delicious melons.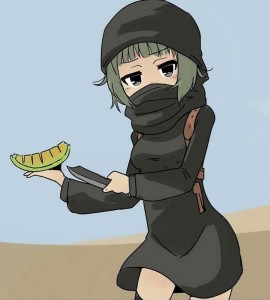 The Japanese Twitter account ISIS-chan (@isisvipper) was created by (hacktivist group Anonymous)  to disrupt ISIS propaganda online using popular hashtags,  so people searching for information about IS might  instead find cartoons of an adorable girl .
Reports said the account was created after (hacktivist group Anonymous) listed  ISIS affiliated Twitter accounts as targets of a social media storm. ISIS-chan currently has   almost 5000 followers.
the group is unique and  not  like other anti-ISIS activist. As it encourages people to contribute to its cause, it has some rules regarding its content : No insulting Islam or showing its religious symbols. respect images of hostages. No gore. No porn.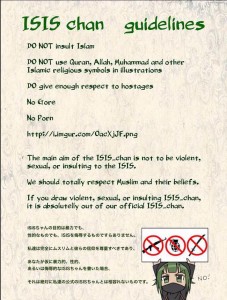 The account   has an ability for taking a serious situation and finding ways to direct its humour at ISIS, for example it  makes  fun of  IS by  a picture where they are using head shaped melons, while  the anime girl chases after them with evil eyes.   .