Yonatan Shapira, co-founder of Combatants for Peace, three-time Gaza Boat sailor, and supporter of the Palestinian Campaign of Boycott, Divestment, and Sanctions  (BDS) will speak in Vancouver: November 3 and 8.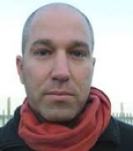 In 2003, Yonatan Shapira was one of 27 Israeli air force officers who denounced as war crimes the "targeted assassinations" carried out by Israel in the densely-populated Gaza Strip. The 27 were dismissed from the air force, and Yonatan went on to co-found Combatants for Peace with other disillusioned Israeli and Palestinian ex-fighters.
In 2010 – 2012, he sailed on three boats carrying humanitarian aid, challenging the Israeli blockade of the Gaza Strip:  the Jewish Boat to Gaza (2010), the US Boat to Gaza, THE AUDACITY OF HOPE (2011), the ESTELLE from Sweden in 2012.
Currently, Yonatan is a member of the group supporting the Palestinian call for BDS from within Israeli society (aka Boycott from Within) and regularly takes part in other nonviolent actions and campaigns in opposition to the Israeli occupation of Palestinian territory.
He also has an MA in Peace and Conflict Studies and since 2010 has facilitated dialogue meetings for high school and university students at the School for Peace of the bi-national community of Wahat al-Salam – Neve Shalom (Oasis of Peace), inside the 1948 borders of Israel.
Yonatan's November 3 presentation is hosted by the Progressive Jewish Alliance at UBC (PJA) and cosponsored by Canadian Boat to Gaza, Canadian Memorial United Church, Independent Jewish Voices-Vancouver, Kairos-Metro Vancouver and the Social Justice Committee of the Unitarian Church of Vancouver.  PJA is a new organization at UBC that strives to open up the campus discourse on Palestine and Israel, while stressing the equal value of all lives.
PJA constitution 'oppose[s] Israel's oppression of the Palestinian people and the occupation of the West Bank and Gaza' and 'recognize[s] that criticism of Israel, anti-Zionism, and nonviolent resistance tactics such as boycotts, are not inherently anti-Semitic'.  PJA 'strive[s] for a just and peaceful future for all those who live in the land of Israel-Palestine."
On November 8, Yonatan will speak in support of BDS as a participant in A Conversation about BDS sponsored by Vancouver chapter of Independent Jewish Voices – Canada, a national human rights organization whose mandate is to promote a just resolution to the dispute in Israel and Palestine through the application of international law and respect for the human rights of all parties." For more information, visit www.ijvcanada.org.
---
Yonatan Shapira: from Israeli air force officer to solidarity activist and Gaza Boat sailor – a story of transformation
6:30 p.m. Tuesday, November 3
UBC – Irving K. Barber Learning Centre (1961 East Mall) Room 261
Hosted by the Progressive Jewish Admission by donation Alliance at UBC