The only commemorative sculpture in the Square – erected after the massacre- is of two angular arms, representing the police and army, protecting a silver orb, representing the Egyptian people.
There is nothing that evokes the blood, death and flames, so prominent that day, except for the memories which resurface as you walk around.
This July I re-visited the Rabaa al-Adaweya medical centre, which overlooks the square, for the first time since I witnessed the massacre. Today the outer walls which had been blackened after the security forces had set the building alight are clean. The blood has long since been scrubbed off the inner walls, floors and spiralling staircase. It looks and feels just like any medical centre. Doctors and patients quietly go about their business.
On 14 August 2013 you had to cross through sniper fire just to reach or leave the centre. Inside, were scenes of emergency and chaos. There was a shortage of hospital beds and medical equipment. Many of the injured lay on any available space of floor, even alongside bodies of the dead.
I'll never forget the man who risked his life crossing sniper fire just to deliver a small plastic bag full of medicines as supplies ran out. Or the woman, fully covered in a black niqab, sitting on the hospital floor by a pool of blood next to her dead husband who had been shot in the head. The stench of death was everywhere.
Today, many ordinary Egyptians are still living in the shadow of what happened in Rabaa that day. It proved a turning point, a day in which the full ferocity of the security forces was laid bare.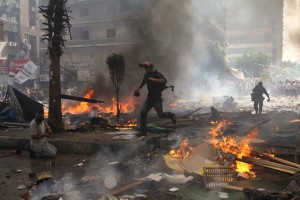 Sara, a petite 25-year-old student, was a participant [protesting] at the Rabaa sit-in. Her last memory of her father, Mohamed al-Sayed, a 58-year-old medical doctor, is of four masked burly men shoving him into the back of a car outside their house and speeding away as they shot at family and neighbours trying to chase after them, two weeks after the Rabaa incident. She has not seen him, or heard his voice, since.
"Where is my father?" she asks. "Where is the law in this country? What is the evidence against him? "
In Sara's hometown of Zagazig, north of Cairo, she says it took three days for the police to file a formal report of her father's disappearance. A complaint by the family to the Public Prosecutor's Office has yielded no results. Through informal sources she's discovered that her father is likely to be in a military prison somewhere.
As the two-year anniversary of her father's disappearance approaches, Sara says: "I don't feel like I'm alive. He was the soul of our family, and he's been taken away."
Mohamed al-Sayed joins a growing list of people arrested and detained incommunicado for prolonged periods, under conditions of enforced disappearances, in the two years since Egypt's former president Mohamed Morsi was ousted from power by the military.
The police and army opened fire and used excessive force to disperse the sit-in of Morsi supporters four times in July and August 2013. The Rabaa massacre on 14 August was Egypt's darkest day.
In the two years since then, not a single security officer has been held accountable for the hundreds of deaths and injuries that day.  The Public Prosecutor and a national fact-finding committee appointed by the government to investigate the killings failed to uphold justice; they put the blame on protestors for violence and shielded the security forces from any criticism.
Instead, the authorities have accelerated their crackdown arresting thousands, who either support the Muslim Brotherhood, which has since been declared a terrorist organization by the state, or former president Morsi. The crackdown has also targeted journalists, rights defenders, students, perceived government opponents, and others just caught in the wrong place at the wrong time.
More than 22,000 people have been detained since July 2013. At least 124 have died in detention, either after torture and other forms of ill-treatment, or because of the very poor detention conditions and lack of access to medical care in prison.
Meanwhile, Egypt's criminal justice system has become another tool for repression by prosecuting and trying people in grossly unfair mass trials in which judges sentence hundreds of people – often supporters of the Muslim Brotherhood – to death or life imprisonment.
Metwally Ali-Sayed, whose two sons were shot dead by security forces during the Rabaa sit-in, is demanding justice for their killing and all others who died.
"They don't even treat us like … human beings," he said.
So far the spiralling human rights crisis in Egypt has been met with an almost deafening silence from the international community. Instead, many of Egypt's international allies have sought to strengthen trade and business ties with President Abdelfattah al-Sisi's government; some have resumed arms exports in recent months and signed new sales.
Respect for human rights is fundamental for the future stability and prosperity of Egypt. Countries must take strong and co-ordinated action at the United Nations, including at the upcoming September session of the Human Rights Council to publicly condemn the deterioration of the human rights situation in the country. All states including the USA, UK and France must immediately suspend the transfer of all arms that could be used in internal repression.
This collective failure to act in the face of the bloodiest and most repressive days in Egypt's recent history is an affront to justice and humanity, an insult to the memory of those who died and willful blindness to a situation that will only get worse if left unchecked.